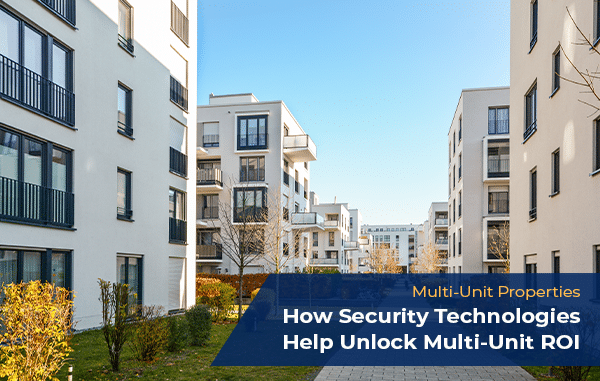 How Physical Security Technologies Help Unlock Multi-Unit Property ROI
Keeping a multi-unit property at full profitability is a difficult, multi-faceted, and ongoing process. Fortunately, as security technologies have advanced, they are providing more opportunity and value in the multi-unit property vertical. Today, many property owners and managers are finding that physical security and automation technologies are a smart way to unlock increased ROI.
While physical security and smart technologies are designed to enhance safety and security, their diverse functionality makes them a powerful tool in increasing property value, attracting tenants and improving efficiencies.  
The Benefits of Using Physical Security Technologies To Multi-Unit Property
Multi-Unit Property Value
The safety and security of a building are primary concerns for anyone looking for a residential or commercial space. Since this is something potential tenants value highly, implementing tools such as access control, video surveillance, intrusion detection, and professional monitoring allows the property to command higher rates.
Crime Prevention
Physical security systems are designed to help deter crimes. When someone sees the property is covered with video surveillance and other technologies, they are less likely to break in, vandalize, steal, or try to perpetrate forms of fraud such as "slip and fall" scams. Not only do the technologies make the property safer, but decreased crime also decreases the costs resulting from criminal activity.
Increased Efficiencies
Using diverse security and smart technologies also helps increase building efficiencies. Multi-unit smart automation technologies allow property managers to control lighting and temperature in common areas, as well as individual units to manage the costs of vacant spaces. This helps reduce energy costs as well as wear and tear on HVAC systems. This results in fewer service calls, and a reduced need for additional staffing.
Multi-Unit Commercial Security in DFW
If you are looking for multi-unit commercial security, work with local experts. Sentry Security Solutions is a commercial and residential physical security technology provider. Locally owned and operated, the company offers fully customized solutions using the most advanced technologies available today.
With services in Houston, San Antonio, Austin, and DFW, Sentry Security Solutions has you covered. By listening carefully and putting our extensive industry knowledge to work, we create solutions that meet your needs today and tomorrow.
Need more information about Security Technologies for your Multi-Unit Property?
Call us at 817-882-6446